PRODUCT
Excel Calendar Template – Excel Calendar 2020 or any year
PURPOSE
The Event Calendar Maker is an Excel calendar template (.xlsx) that you can use to create your own personalized event calendar for 2019, 2020 or any year.
REQUIREMENTS
You need a copy of Microsoft Excel. Supported versions: Microsoft Excel for Windows (2010 and above), Microsoft Excel for Mac (2011 and above).
PRODUCT TOUR VIDEO
FEATURES
All-Purpose Calendar Maker

Works for any year
Start with any month
Start week with any weekday
Customizable weekends and holidays
300 events and 1200 instances

Visualization options & controls

Categorize events into 12 Event Types
Choose from 15 Colors to highlight
7 Calendar Designs (2 Yearly, 3 Monthly, Weekly and Daily calendars)

Practical Functionality that saves time

12 Frequency Types (automatically generate recurring events)
Control which events you would like to display by deactivating events
Control order of priority of events
Switch Off Non-business days easily

Simple, easy and quick

Create calendars within minutes
Easy and simple data entry
Print-ready calendar designs
HIGHLIGHTS
ALL-PURPOSE CALENDAR MAKER
A calendar template that works for any year (You can use to create a 2019 calendar and then re-use it next year to create a 2020 calendar too)
Start with any month
Start week with any weekday
Customize weekends and holidays
This option allows you to customize the weekends according to your needs. Choose the weekend option. For example, in the image above, all Sundays and Saturdays are considered as weekends. They will be highlighted with red font on the calendar.
Enter a list of holidays in the Holidays table. These days will also be considered as non-business days and highlighted in red font.
VISUALIZATION OPTIONS & CONTROLS
There are 7 calendar designs to choose from. All the 7 calendars are automatically generated based on your inputs.
Yearly: 12 Months in one page, event names are not displayed
Yearly with Events: 12 Months in one page, event names are displayed
You can also choose from Events or Instances to display. Up to 150 events or first 150 event instances will be displayed.
Monthly: 12 pages (1 Month in each page), event names are not displayed
Monthly with Events: 12 pages (1 Month in each page), up to 5 event names per day are displayed
One Month: 1 page where you can choose one month to display
Up to 10 event names per day are displayed. If you have more than 5 events per day, then this view will be the best.
Weekly with Events: Choose any day and you can see the week's events.
Up to 20 events are displayed with name and color.
Daily with Events: Choose any day and you can see the day's events.
Up to 20 events are displayed with name and color. Start Time and Event Description are displayed. You can also enable custom columns to be displayed.
EVENT TYPES & COLORS
You can enter your own (up to 300) events that will be displayed on the calendar. You can also categorize them under (up to) 12 event types. You can choose a colour for each event type from the list of 15 pre-chosen colours. The color next to the Event type will be used to highlight the corresponding dates on the calendar.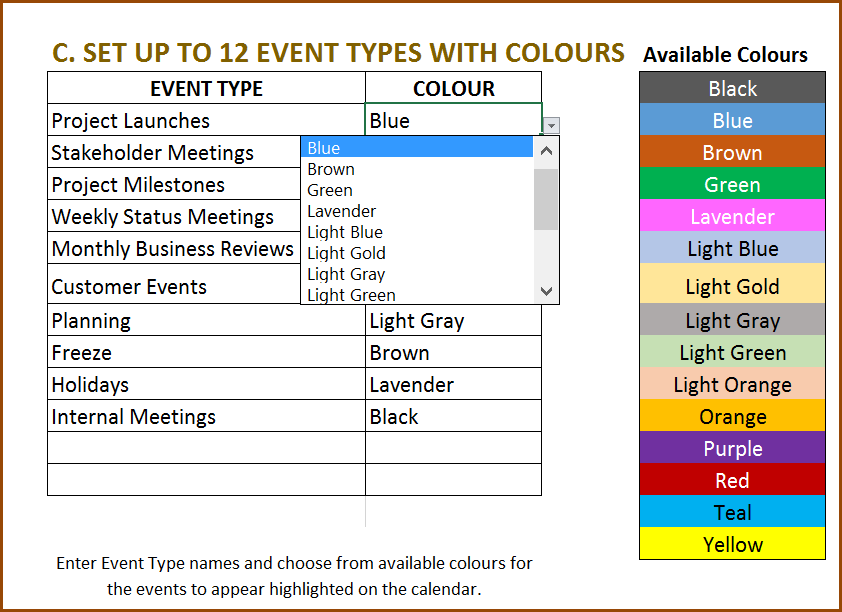 PRACTICAL FUNCTIONALITY
12 different frequency types are provided to help create recurring events' instances automatically.
PRIORITIZE AND DEACTIVATE EVENTS
It is easy to prioritize events when you have multiple events on one day. Similarly, it is easy to complete deactivate an event and not display on the calendars.
If an event overlaps with a non-business day, you can choose whether to show that event on the calendar.
SIMPLE, EASY & QUICK
The calendar template is a simple Excel workbook that is easy to use. It can help create fully customized and personalized event calendars instantly. Data entry is minimized to help the user. All the calendar designs are fully automated and made print-ready. You can print or export to PDF instantly.
Helpful articles about how to use the template for various scenarios
—————————————————————————————————————
Please note that only the features that are mentioned here are possible in this template. Here are some examples of what the template does not do.
The template doesn't create any reminders for events.
The template is not integrated with any other software. It's a stand-alone Excel workbook file.
US$25
Download File Instantly
Free Email Support
One Time Payment. No recurring fees
Password provided to edit the file
100% Money-back Guarantee
Trusted by more than 10k+ customers
If you are not satisfied with the product, please e-mail support@indzara.com and we will issue a full refund.
You will be able to download the file immediately upon payment. You will also receive an e-mail immediately with the download link.
All future updates and upgrades are absolutely free.