EXCEL CALENDAR TEMPLATES
There are a few options with calendars depending on your need. These calendar templates are designed to be printable and can be exported to PDF as well.
Event Calendar Maker Excel Template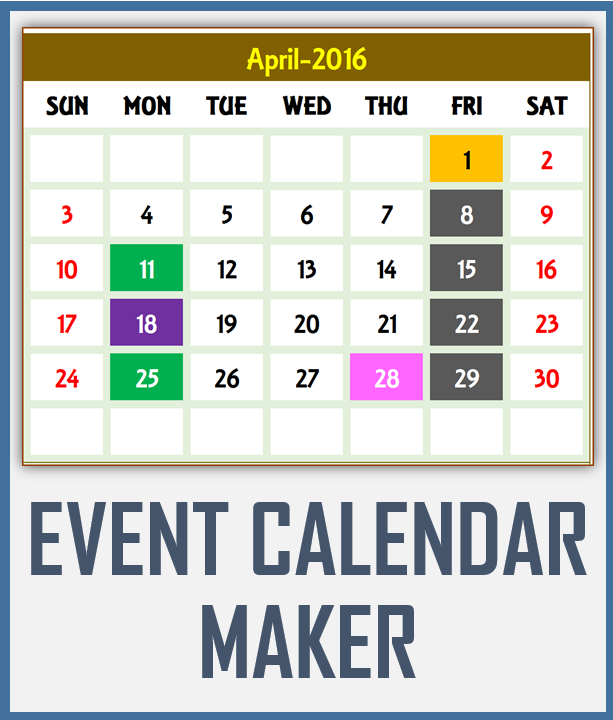 All-Purpose Calendar Maker

Works for any year
Start with any month
Start week with any weekday
Customizable weekends and holidays
300 events and 1200 instances

Visualization options & controls

Categorize events into 12 Event Types
Choose from 15 Colors to highlight
7 Calendar Designs (2 Yearly, 3 Monthly, Weekly and Daily calendars)

Practical Functionality that saves time

12 Frequency Types (automatically generate recurring events)
Control which events you would like to display by deactivating events
Control order of priority of events
Switch Off Non-business days easily

Simple, easy and quick

Create calendars within minutes
Easy and simple data entry
Print-ready calendar designs
---
2017 Excel Calendar (17 Designs)
Customize calendars by choosing the Year, Starting month and Starting day of week.
Enter Holidays and Personal Events to display on the Calendars
Automatically creates 17 Calendar designs (No points for guessing why 17 🙂)
10 (of the 17) designs automatically list the Holidays and events
2 (of the 17) designs allow typing events directly on the calendar itself
All 17 designs are ready to be printed. Can be Exported to PDF as well.
Easy to change formatting (font size, font, text colors, fill colors)
---
All-Purpose Calendar Maker 
Choice of two designs

12 month calendar on 1 page
Monthly calendar in 12 pages

Works with any year after 1900
Start with any month
12 Month calendar (12 months beginning with the month you choose)
Start the week with any day
Displays up to 100 of your personal events (nicely sorted)

Event dates are highlighted on the calendar

Choice of up to 5 different types of events. Each event type is highlighted with a different colour
Customizable Weekends – You chose which days of the week are usually non-working days or weekends.
---
Custom Calendar (U.S.) Excel Template
12 month calendar on 1 page
Works with any year after 1900
Start with any month
Start the week with any day
Displays up to 100 of your personal events (nicely sorted)
Displays the age, in years, of the event
Event dates are highlighted on the calendar
U.S. holidays are highlighted on the calendar
Weekends (Saturdays and Sundays) are highlighted in red font
---
Custom Calendar – 2013 (Tamil) 
Year: 2013
Two designs: Annual and Monthly calendars
Start the week with any day
Displays up to 100 of your personal events (nicely sorted)
Displays the age, in years, of the event
Event dates are highlighted on the calendar
Tamil Nadu Government.holidays are highlighted on the calendar
Weekends (Saturdays and Sundays) are highlighted in red font
Tamil dates are displayed on the monthly calendar