Kanban Board Task Tracker Google Sheet Template
Introducing the Indzara Kanban Board Google Sheet Template – to aid you to boost productivity, streamline collaboration, and effortlessly organize your work tasks.
Use the Kanban approach to workflow management and transform your work process like never before! With this simple Google sheet template, you can efficiently manage projects, tasks, and even personal to-dos with ease.
In this template, we combined the Indzara promise of "simple yet effective" with the versatility and efficiency of the Kanban methodology. Read more and get ready to reach your maximum productivity.
With simple and minimal data entry, get a visually elegant Kanban board within minutes!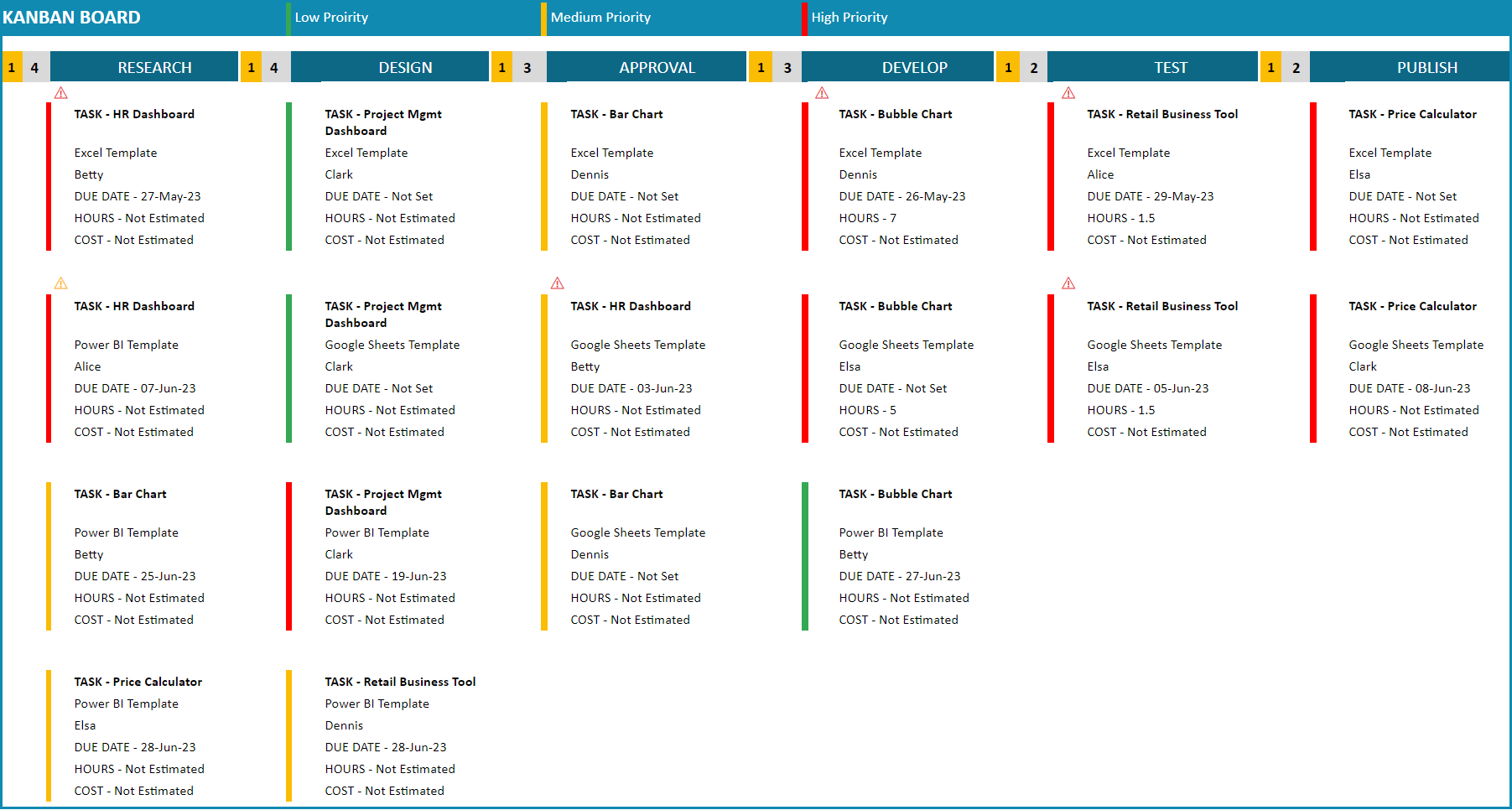 Before we dive in to know more about our template, let's take a look at what is a Kanban board and why is it so important for workflow management.
What is Kanban Board?
A Kanban board is a visual representation of a workflow system. It typically consists of columns and cards that represent different stages of work, providing a clear overview of the progress and status of each task. By visualizing work items on a Kanban board, teams can easily identify bottlenecks, prioritize tasks, and maintain a steady flow of work.
Who Uses it?
A diverse range of teams and individuals utilize the Kanban board across industries. It is particularly popular in agile software development teams, project management teams, marketing departments, and even personal productivity enthusiasts.
Whether you're managing a complex software development project or simply organizing personal tasks, a Kanban board can help you stay focused, track progress, and manage work effectively.
Purpose of a Kanban Board:
Visualize Workflow: The primary purpose of a Kanban board is to visualize the flow of work. It allows teams to see all tasks and their progress at a glance, ensuring transparency and shared understanding.
Workflow Optimization: The boards provide valuable insights into the efficiency of the workflow. By analyzing the board, teams can identify bottlenecks, areas for improvement, and potential process optimizations.
Task Prioritization: This also facilitates prioritization by allowing teams to assign different priority levels to tasks or cards. Which helps teams focus on the most critical tasks and ensure that crucial work is completed on time.
Collaborative Work: The visual nature of the board encourages discussions, coordination, and a shared understanding of the project's progress.
Flexibility: Our Kanban boards offer flexibility in terms of customization and adaptability to different workflows. Teams can easily tailor the board to suit their needs, adding or modifying columns or labels.
Now, let us see how you can create a Kanban board for your organization with this template.
Features of the Kanban Board Task Tracker Google Sheet Template
The following are the highlights of the template.
Crisp and Clear Kanban Board Visuals

Elegant and easy-to-understand visuals make this template stand out.
Priorities are color-coded to get a quick overview of the state of each task/project.
Warning signs to indicate due dates that are fast approaching and that are past due.

Applicable to any type of project

The simple settings enable you to customize the tasks to cater to your unique project needs.

Simple & Minimal data entry

A powerful Kanban board with the simplicity of an Google spreadsheet, do we need to say more?
All it takes is a few simple steps and minimal time to get started!

Fully automated & Customizable

Customize the Kanban cards, and columns based on your organization's requirements.

View the Kanban board which is fully automated and instantly created with the input data.
Downloads
How to use the Indzara Kanban Board Task Tracker Template
Once you download the file, you'll receive an Google sheet template file and a sample file.
The overview of the steps to follow to create your own Kanban board are, open the template sheet and:
Step 1: Define the settings
Step 2: Enter data for your projects/tasks
Step 3: View the fully automated Kanban board
Now let's take a detailed look at each step.
Step 1: Enter Settings
In this sheet, input all the necessary project/task details according to your organization's specific requirements.
This includes entering the projects, allocating appropriate resources, and defining the stages. The stages represent the columns that will be visible on the Kanban Board. You have the flexibility to set up to six different stages.
Additionally, you have the option to personalize the information displayed on each Kanban card by adjusting the Kanban items settings. You can choose up to six items to be displayed on the cards, tailoring them to your preferences and needs.
Step 2:Enter the Data
Within this sheet, you can input all the relevant information related to your Kanban board, i.e., the data – specifically the tasks and their corresponding workflow details. This encompasses essential details such as the assigned resource, task priority, due dates, and more.
By entering these details, you can effectively track and manage the progress of each task, ensuring that all necessary information is captured for seamless workflow management.
The "Warning (days)" column serves as a means to raise a warning sign on the Kanban Board.
For example, in the provided screenshot, the "HR Dashboard" task has a due date of 3rd June and a warning value of 3. As a result, starting from the 31st of May, the Kanban board will display an orange warning sign atop the respective card. The red sign serves as an indicator that the due date is crossed (where as an yellow sign indicates due date fast approaching).
Step 3: View the Automated Kanban Board
Once the necessary information from the previous steps are completed, the template will automatically generate the Kanban board tailored to your workflow.
The board shows the number of tasks that are in each stage for an overview to the left of the stage name. Below each stage, view each card under it with the customized list of items. The cards are color-coded based on priority as well.
To get a detailed, drilled-down overview of the Kanban board, the template also comes with a set of filters:
Download this template now and transform your work management. Don't miss out on this opportunity to optimize your productivity and download the template today!
---
Recommended Template
---
---
I hope this template is useful. If you like it, please share it with your friends. If you have any suggestions or questions about this template, please leave them in the comments section. I will continue to enhance this template based on feedback.
Related Excel and Google Sheet Templates