Capacity Calculator Excel Template
Are you responsible for resource management in your organization? Does the struggle to align projects with available workforce capacity leave you drained and stressed?
Enter the ultimate solution: our easy-to-use Excel template – the Capacity Calculator. It's not just a tool; it's a transformation for your project management and resource allocation strategies.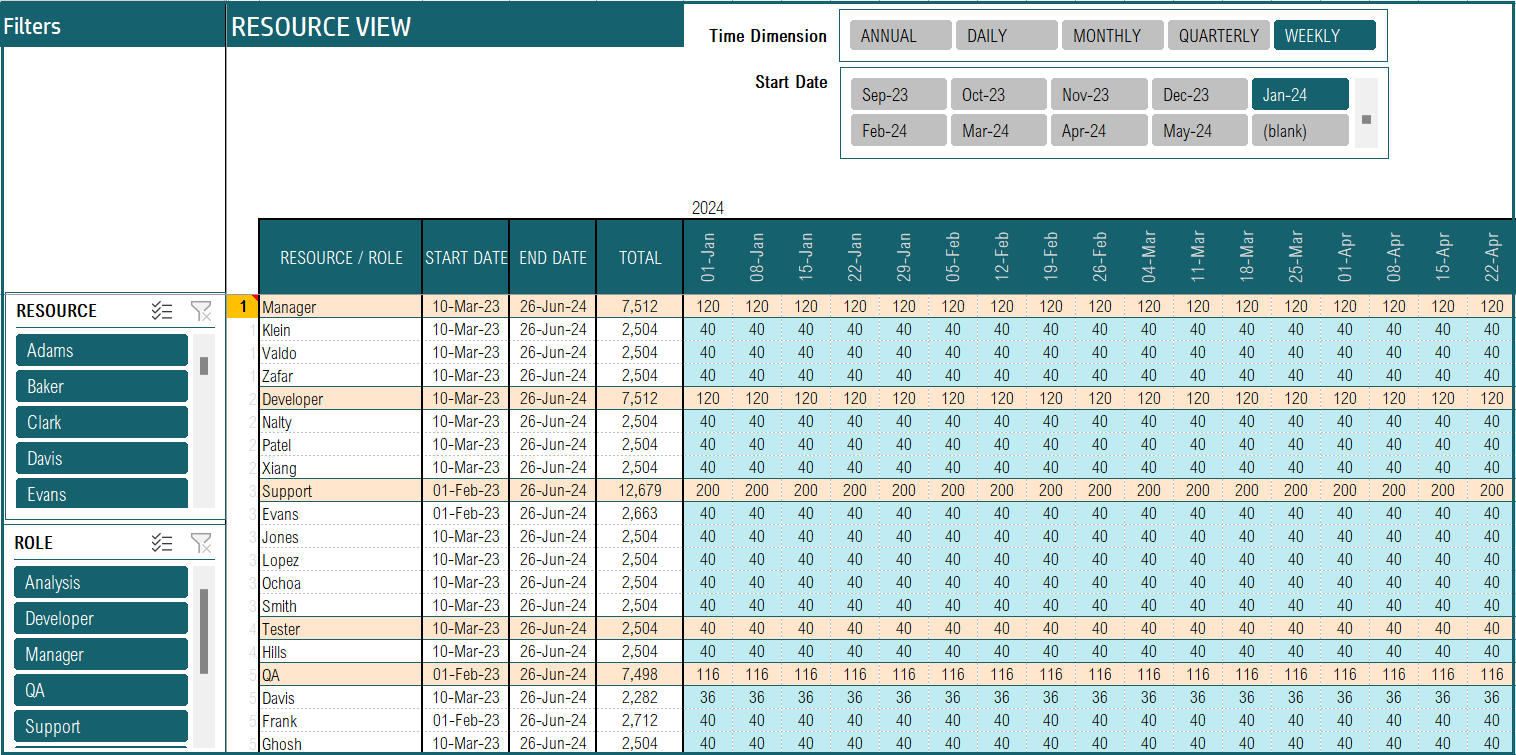 Who
needs this Capacity calculator and why?
Efficient resource utilization is paramount for a myriad of reasons.
Whether you're an HR professional striving to align talent with tasks, a project planning manager needing to ensure project timelines are met, or a team leader aiming to optimize your crew's performance, resource capacity planning is your secret weapon. It's the cornerstone of maintaining productivity, meeting deadlines, and fostering growth.
Key Features of the Capacity Calculator Excel Template
The following are the highlights of the template.
Simple data entry process

Easy to enter data in excel file.

Customize settings to meet your business needs

Customize the SETTINGS sheet to suit your needs.

Automated Dashboard and Calculations

Fully automated capacity calculations
Intuitive Calendar view
Takes into account vacations/overtime for calculations
Downloads
To get comprehensive dashboards with resource capacity as compared with demand and much more features, please see the Resource Capacity Planner Excel Template and our Resource Capacity Planner Lite Excel Template
How to use the Capacity Calculator Excel Template
Once you download the template, you'll receive a Microsoft Excel file .
Here is the overview of steps to use the template.
Enter all the one time settings details
Enter the resource and its corresponding available hours with capacity in the Capacity sheet
Vacation or Holiday details
After the data entry, view the fully automated Resource Calendar
Step 1: Enter Settings
Enter the start date from which the project starts. Also, enter the unique list of roles and the resources that will take up those roles. The sheet will also require you to enter the list of your organization's holidays.
Step 2: Enter Capacity
In the "Capacity" sheet, enter the list of resources, the start and end dates of their availability and the capacity in hours for each day of the work-week.
Step 3: Enter vacation/overtime details
There will arise occasions where there are deviations in the assigned capacity hours for resources. This sheet can be used to capture any such vacation or overtime hours.
Step 4: View Dashboard (Resource View)
Once all the relevant details are filled, the template automatically generates the Resource View with the capacities calculated. This can be used to get a better hold of resource planning, helping you in staying ahead of the curve!
The Time Dimension let's you view the capacity allocation for future dates as well. You can also use the filters to view for a specific Resource or Role.
Download our free Capacity Calculator Excel template now and experience the benefits of streamlined resource allocation.
---
Recommended Template
If you are looking to manage multiple jobs and get advanced reporting, please try Resource Capacity Planner Excel Template
---