Employee Vacation Planner 2023 – Free Excel Template
This Excel Template is designed to help assess coverage of team members' availability during a month. As a Team leader or a Manager of a team, it is important to know the staff coverage available every day, especially during the holiday season. This Excel template can be used every month to ensure that you are aware of exact coverage and plan accordingly. It can handle up to 20 employees.
This Excel template is designed for Microsoft Excel, but if you are looking for a Google Sheet template, please visit Employee Vacation Planner in Google Sheets.
Free Download
Video Demo
Inputs
This Vacation Plan Excel template is very easy to use. The following are the inputs needed:
Start Date

The template builds out the calendar for 31 days beginning from Start Date

# of Employees needed daily

This is used to identify understaffed (low coverage) days. Understaffed day is a company working day where the '# of employees at work is less than the Number of Employees needed daily'.

Weekends

Select the weekend days of your company. These days will not be counted as working days.

Holidays

Enter up to 7 holidays. These days will not be counted as working days.

Vacation Dates of employees

Enter Employee Name and the planned vacation dates.
If an employee plans to take two periods of vacation (Oct 2 to Oct 7 and then Oct 20 to Oct 24), enter that as two rows.
If an Employee does not plan to take any vacation, then enter just the Employee name in a row and leave the date columns blank. It is important that all employees appear at least once in the table.
Dashboard
Once the inputs are provided, the template automatically calculates the summary metrics.
# of Employees
# of Working Days
# of understaffed days
In addition it also shows the number of employees at work for each of the 31 days. Holidays and Weekends will not display any numbers. Red bars indicate understaffed days (days where number of employees working is less than the number of employees needed).
Calendar
The template also has a vacation calendar that visually shows the vacation days on a calendar. Let's take a closer look at the top of the calendar first.
Each employee is listed on the left. Holidays are shown in Orange and Weekends are also highlighted in gray. Employee's vacations are shown in Green fill.
The calendar displays for 31 days and 20 employees at a time.
Here's a look at the entire calendar (vertically).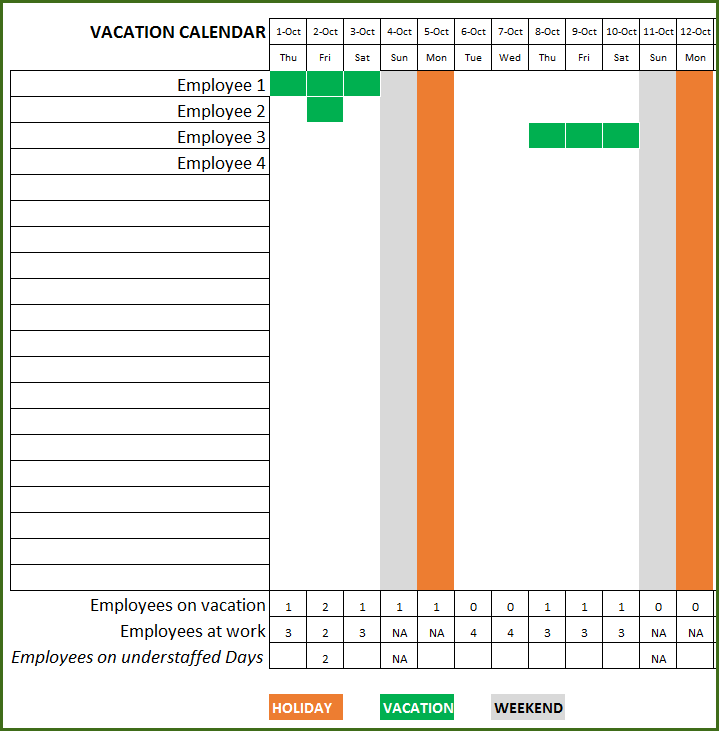 At the bottom of the calendar, we can see the legend and daily summary metrics. Number of Employees on Vacation and Number of Employees at Work for each day are summarized.
Print or Export to PDF
You can also easily print this employee vacation planner template excel 2020 for use within your office. Or you can export to PDF and share by email.
---
Recommended Templates
TEAM VACATION PLANNER
If you are looking for a longer planning period, with support for more employees and unlimited holidays, check out the Team Vacation Planner template.
RESOURCE CAPACITY PLANNER
If you are looking for capacity planning in terms of hours of availability and have varying demand, please visit Resource Capacity Planner Excel Template.
---
Related Free Excel Templates
---
I would love to get your feedback on this template. Do you find this useful? What features should be added to this template? Please share in the comments below.