Description
Plan your projects quickly with the Project Planner Excel template.
Effective Project Planning

Determine if/when projects will complete

Estimate the cost of each project

Prepare project, resource & task schedules

Understand resource utilization

Identify opportunities to improve project completions & resource management

Automatic scheduling of tasks given the inputs

Planning done at the granular unit of hours

Instantly create resource, task, and project schedules (Gantt charts)

Schedule based on Project and Task prioritization

Resource can work on parallel projects

Each task can have up to two predecessors (dependencies)

A task begins the day after its predecessors have ended

Project Start Dates can be restricted (optional)

Project/Task due dates can be input (optional) to compute completion on time

Customization

Customize company weekends (non-working days) and holidays

Each resource can have different work hours for each weekday

Each resource can have personal leave days (partial or full)

Each resource can have a different cost per hour
For detailed instructions on how to use the Excel Template, please visit the support page.
AUTOMATIC SCHEDULING
The Project Planner Excel template will automatically schedule tasks. You don't have to manually specify who should work on which task for how many hours on each day. It needs just the following inputs:
Hours Required to complete a task
Resource assigned to the task
Resource availability.
It will automatically create the schedule as seen below in the Gantt chart below.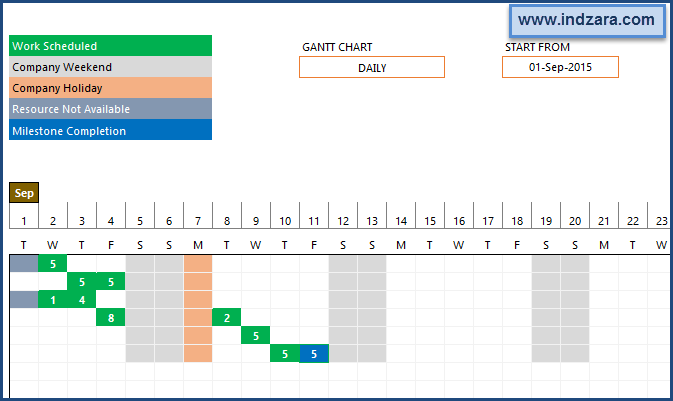 CONTROL THE SCHEDULE EASILY
Though the template will create schedule automatically, you can still control the schedule in many ways.
Enter Project Preferred Start Date (date before which Project should not start)
Enter Task Preferred Start Date (date before which Task should not start)
Prioritize Projects to ensure that higher priority projects are handled first
Prioritize Tasks within a project to ensure that higher priority tasks are done first
Control Maximum allocation % of resource to a task, so that a resource can work on multiple tasks at the same time
Up to 2 Predecessors can be assigned for each task to reflect the dependencies
APPLICABLE TO PRACTICAL SCENARIOS
The template accommodates common practical business scenarios by providing options to handle the following resource availability constraints.
Resource availability by weekday
Resource personal leave in hours
Company Holidays
Company Weekends
IMPROVED PROJECT MANAGEMENT
Visual cues to identify projects and tasks that will not complete, that will complete late and those that will start late
Instant access to resource utilization info. and Cost.
READY-MADE GANTT CHARTS AND REPORTING
Printable Project and resource summary with visual timelines
Customizable Gantt charts (daily/weekly/monthly) and any start date.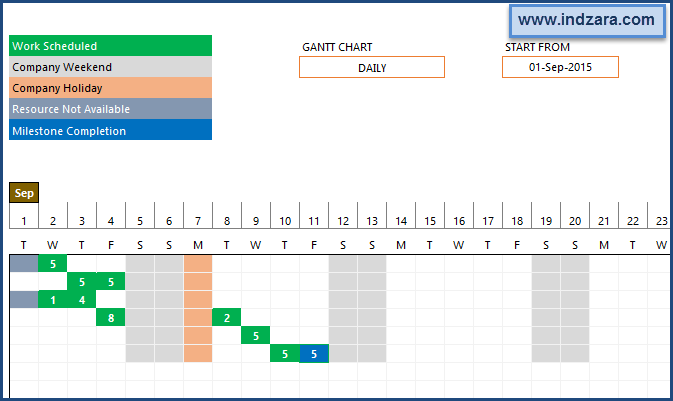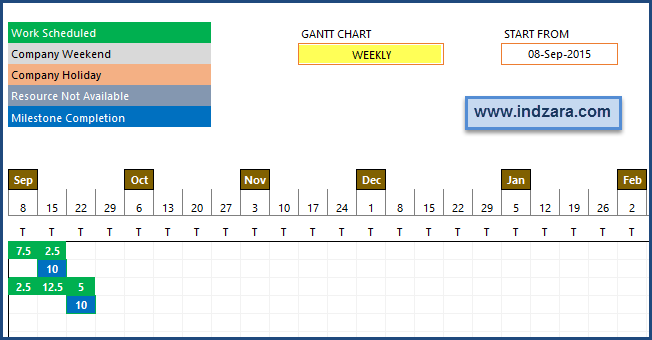 LIMITATIONS
The following are the default limitations of the Project Planner Excel template. If you need to extend these limits, please contact us.
Up to 30 resources can be included in planning
Maximum planning period is 366 days
Each task can have up to 2 predecessors. A task begins the day after its predecessors end.
By default limited to 250 tasks and 50 projects, but can easily be extended