Description
The Employee Retention Dashboard Excel template is your simple and effective solution to track Employee Retention and turnover in your organization. If you are responsible for reporting on Employee Retention metrics in your HR organization, this tool can make the task easier and provide you with insights to improve employee retention. Download this Employee Turnover Excel template, enter your employee data and view the retention metrics immediately.
HIGHLIGHTS 
7 Highly effective Employee Retention Key Performance Indicators (KPIs)
3 visually effective and interactive Dashboards
Simplified data entry & Automated calculations
Modular Design – Easy to customize for your needs
One File for Life – Continue to use as long as needed
7 Highly Effective KPIs
Following 7 KPIs are automatically calculated by the template
Active Employees: Number of employees active with the company
Hires: Number of new employees hired and internal hired
Exits: Number of employees who have left the company
Employee Turnover Rate: (Number of Exits/Avg. Number of active Employees during the period) * 100
Employee Retention Rate: (Number of Exits from Employees active at the Beginning of the period /Number of Employees active at the beginning of the period) * 100
Tenure of employees: Average duration of employment of active employees
Tenure of Exit Employees: Average duration of employment at the time of exit
3 Automated Dashboards
The employee turnover excel template (Retention template) provides three automated dashboards:
RETENTION DASHBOARD
Retention Dashboard presenting 7 KPIs with trend over the last 12 months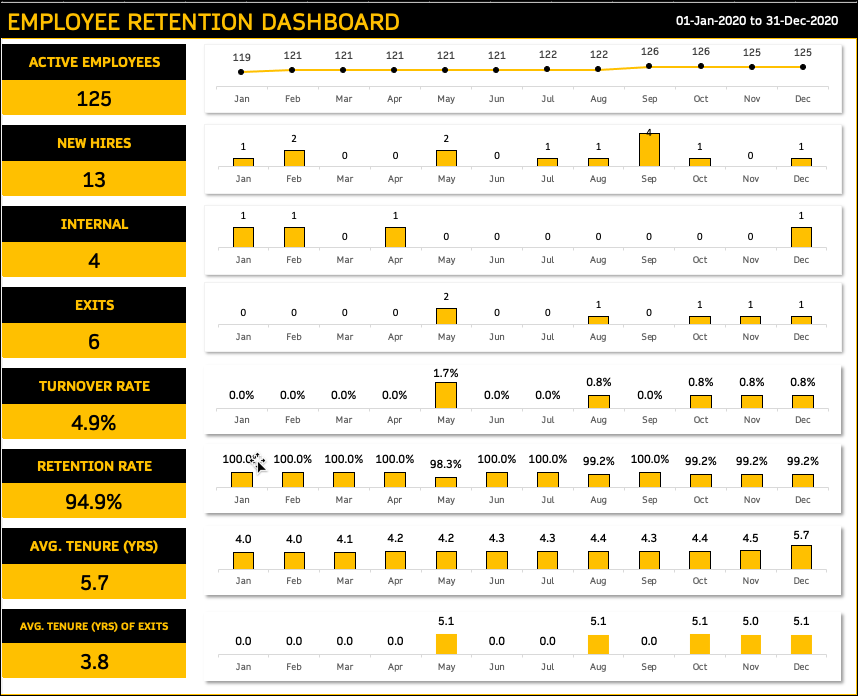 You can enter a custom end date to show the trends for the previous 12 months from the given end date.
Or, you can get the trends past 12 months using this template.
The dashboard has different slicers like Location, Job Type, Department, Gender , Tenure etc., to analyze further.
SNAPSHOT DASHBOARD
Snapshot Dashboard provides interactive view of # of Employees and Avg. Tenure by 7 different employee and job attributes.
10 slicers are available to drill down or filter the Dashboard.
EXIT DASHBOARD
Exit Dashboard provides interactive view of exit data. Exit Type (Voluntary/Involuntary) and Exit Reason can be quickly viewed to understand how, why and when employees are leaving the company. 12 slicers to drill down or filter.
The dashboard can be filtered based on dates using the timeline filter.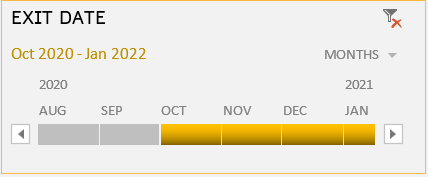 This dashboard also contains different slicers like Exit type, Exit reason, Location, Gender  etc., to analyze further.
Simplified Data Entry & Automated Calculations
The employee turnover excel template (retention template) simplifies the data entry as there is only one input sheet. You can enter all the employee information in this one table.
Once the employee data is entered, you can refresh calculations and the Dashboards will immediately reflect your new data entered. Every calculation is automated. This will ensure that it will always be 100% accurate and does not require any manual entries.
Modular Design –
Easy to Customize
Customize Dashboards
The Dashboards are designed to be modular.
Charts: If you do not need one of the charts in the Dashboard, you can unprotect the sheet and just remove that one chart.
Slicers: If you do not need one of the slicers in the Dashboard, you can unprotect the sheet and just remove that one slicer.
Renaming Slicers: You can rename the slicers by unprotecting the sheet and then changing the settings of the slicer.
Resizing Charts: Depending on the data in your organization, you may need certain charts and slicers to be long or short. Not a problem. Just unprotect the sheet and resize the chart to fit your needs. It will not impact the dashboards in any negative way.
Customize Attributes
The employee turnover excel template (retention template) has totally 14 attributes and 10 of them can be customized by you as needed for your organization.
4 Employee Attributes (2 can be customized)
7 Job Attributes (7 can be customized)
3 Exit Attributes (1 can be customized)
In the Employee Data sheet, these attributes are clearly labeled whether they can be renamed and customized. You can just click on the column header and rename it. They will be immediately reflected in the dashboard.
You can also add more columns as needed to store information about employees.
One File for Life
The template design allows data to be entered every day as new employees join, existing employees leave, and employees change location/department. You don't need a new file every month or year. You can continue to use the same file for ever.
All your data in one file. Simple & Effective.
Employee Turnover Excel Template (Retention Template) Demo 
Try it out yourself with this demo below. Use the filters and see the dashboard get updated instantly. For fully unlocked version please purchase the template.
Limitations
There is a 1000 employee limit by default. However, that can be extended in less than a minute to any number of employees.