Bills Tracker – Excel Template
Never Miss a Due Date Again!
We've all been there! In the fast-paced world we live in, juggling multiple things, it's all too easy to forget a payment deadline or overlook a bill. Scrambling at the last minute to remember and pay that bill, which just slipped our minds. Often, it's just the overwhelming number of tasks and dates we try to remember. Introducing our Bills Tracker Template in Microsoft Excel for all your bills tracking!!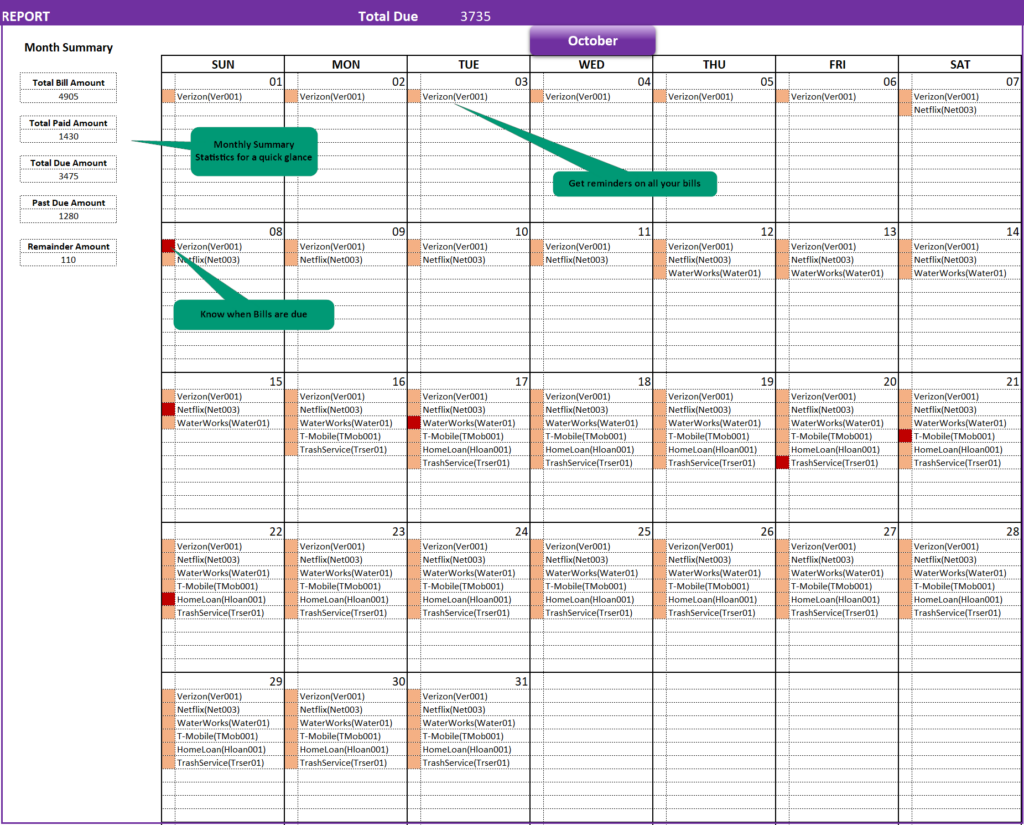 Why a Bills Tracker Template is a Game-Changer?
Imagine having a personal assistant who reminds you not just when a bill is due, but also a few days in advance, so you have time to plan!! That's what our "Bills Tracker Excel Template" does for you. It's not just about avoiding late fees; it's about financial discipline, peace of mind, and keeping control over your expenses.
Benefits:
Transparent View: Get a clear monthly calendar view of all your bills. Know when each bill is due at a glance, and plan your finances ahead!
Avoid Late Fees: By setting up reminders, you're less likely to miss a payment and incur those pesky late fees.
Tailored for You: With customizable categories, whether it's monthly phone bills, mortgages, school/tuition fees, or even subscriptions, this template has got you covered.
Automated, Flexible Dashboard: Use the filters based on bills, their categories, and bill status for a more focused look.
Simplified Data Entry: All that takes is a few minutes of data entry in a simple Microsoft Excel spreadsheet.
Whatever your bills are, the automated Calendar view will help you stay ahead with monthly summary details, filters for more clarity.
Examples Use Cases where this template comes in handy!
Monthly Phone Bills: Set reminders a few days before your phone bill is due, ensuring you never miss a payment.
Mortgages: With hefty penalties for late payments, ensure your mortgage payments are always on time.
School/Tuition Fees: As a parent or student, remember upcoming tuition fees to manage your budget effectively.
Memberships, Subscriptions & More: Keep track of all your recurring payments in one place. And much more!
Downloads
How to use the Bills Tracker Excel Template?
Once you download the file, you'll receive an Excel template file and a sample file. 
The overview of the steps are:
Step 1: Define the settings
Step 2: Enter data of all your bills
Step 3: View the fully automated calendar with reminders and due dates!
Now let's take a detailed look at each step.
Step 1: Enter Settings
Begin with the settings sheet, entering a list of bill names and categories based on what you want to keep track of.
Step 2: The Data Sheet
In this sheet, for each bill, input Bills ID that is a bill number or subscription number (which is optional), bill name, category, bill date.
Also enter the due date for each bill and when you'd like the calendar to start displaying a reminder.
Once a payment is made, enter the paid amount in the column given for the same. The template automatically calculates the balance and the bill status as shown above.
Step 3: View the Automated Report
Once you've added your data, navigate to the Report sheet with a fully automated Calendar view.
Enter a year and month for which you need a quick view of all the bills.
Once these are selected, your entire month's financial commitments will be displayed in a calendar format, with conditionally formatted colors to indicate dues (in red) and reminders (in light orange) based on your entries in the Data sheet.
You can also get a quick summary overview of your Bill amounts, dues and paid amount details for efficient planning.
Utilize the filters on the dashboard for a clearer view based on specific bills, categories, or payment status.
Get Started Today!
Why let bill stress take over your life when you have a free tool at your fingertips? Designed to keep your payments on track, the Bills Tracker Template in Excel is a game-changer. Download now!!
For any queries, suggestions, or customization requests, write to us at support@indzara.com