Project Management Templates
Microsoft Excel is the most used project management tool, though there are specialist applications available such as Microsoft Project.
The key reasons, in my humble opinion, are
Ability to adapt: It's easy to add more features to an Excel workbook and customize it to suit our unique project management needs.
Easy to Use: Building sophisticated Excel workbooks is not easy, but using well developed workbooks is very easy. If we become familiar with basic Excel operations such as data entry. formatting, printing, filtering and sorting, we can become very effective very quickly. (My Free Excel course for Beginners)
Easy to Share: It's easy to share the files with team members as Excel is installed in computers in almost every company.
Excel Project Management Templates 
The Excel templates from indzara.com are built with the principles of simplicity and effectiveness. They are designed to be easy to use but they don't lack in functionality. Here is just a couple of examples. Our Project Planner and Project Manager templates use Automatic Scheduling where tasks are automatically scheduled in our project plan. (What is Automatic Scheduling in Project Management?). Our Calendar Maker and Task Manager  templates can handle recurring (monthly, weekly, 4th Friday of a month, etc.) events and tasks and automatically create those events/tasks for us. These tools help us save time, save money and be more organized & efficient.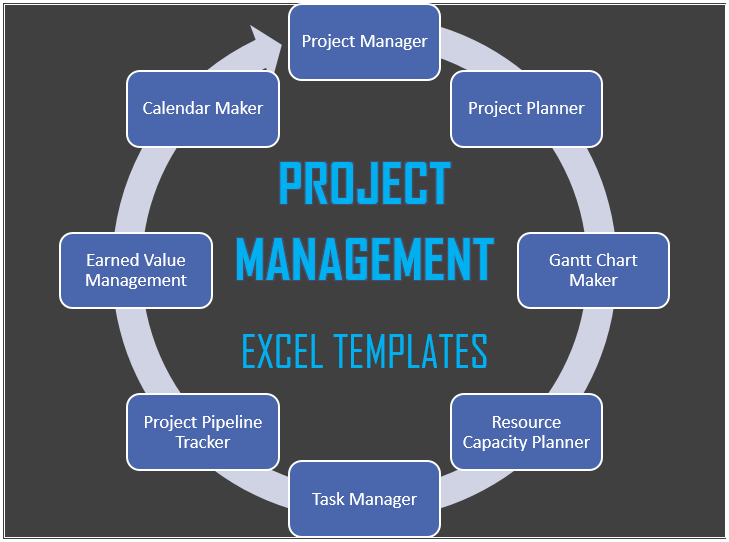 Premium Project Management Google Sheet Templates
Free Project Management Excel Templates