Microsoft Excel can be valuable tool for HR (Human Resources) professionals. Whether you are part of a large organization or a small one, Excel comes in handy to help manage data related to hiring or hired employees. In addition to effectively organizing and retrieving data, it can also help create & implement processes. Please find below a collection of Excel templates that are designed to help HR related tasks.
If you have any suggestions for a new template, please contact me with specific requirements.
---
EMPLOYEE LEAVE MANAGER
Excel template to simplify your leave data management in your organization. One file. Automated calculations. Simple Data Input. Automated Reports and Dashboards.
Simple

Simplified Data Entry
Simple Excel workbook with no macros

Practical

Supports company Holidays & customizable weekends
Supports employees joining and leaving company
Easy to enter multiple day leave entries
Handles partial days of leave
Print or Export as PDF and share

Automated

Automated Leave balance calculations
Team Balance Report
Employee Report
Daily Report
Monthly Planning Dashboard

Scope

Supports up to 500 employees
Supports up to 5000 leave entries
Supports up to 12 types of leave
Reporting period of up to 12 months
Requirements: Microsoft Excel (2010 and above) for Windows, Microsoft Excel (2011 and above) for Mac
---
RECRUITMENT MANAGER
If you are in a recruiting team responsible for hiring in your organization, or you are a freelance recruiter, you can use this simple Excel template to manage your entire recruitment process. The data entry is simplified and saves you time.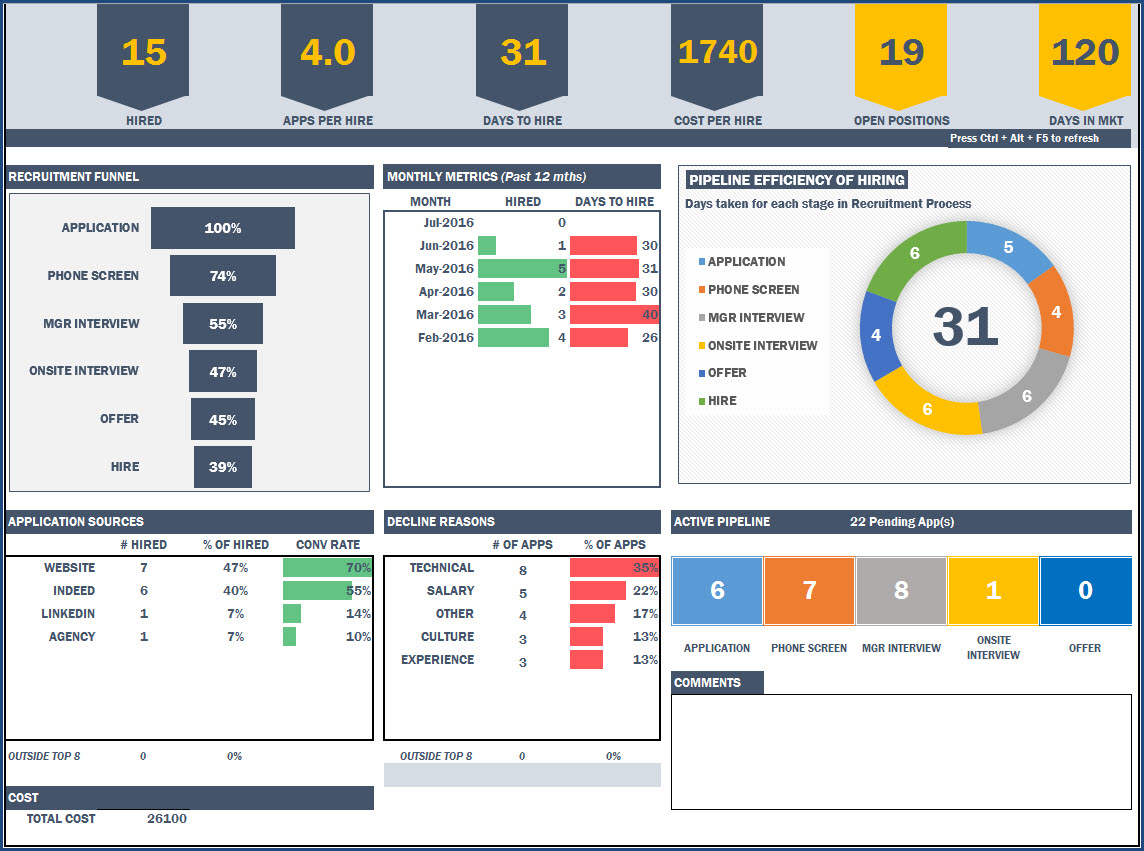 Simple Design and Easy Data Entry
Understand recruitment funnel performance
Instant access to active pipeline
Identify top decline reasons and top application sources
Find bottlenecks in recruitment process
Analyze performance using key metrics in Dashboard
Compile a job report which shows all candidates' summary
Customize to suit your needs (Stages, Sources and Reasons)
Requirements: Microsoft Excel (2010 and above) for Windows, Microsoft Excel (2016 and above) for Mac
---
RECRUITMENT TRACKER (Free)
Are you in the process of recruiting for an open job/position? You can use this simple Excel template to track status of the applicants (candidates) in an organized way.
You can get an instant view of how many applicants are in the pipeline and where in the funnel applicants are dropping off.
The template supports up to 4 stages of recruiting such as Application, Phone Screen, Interview and Offer.
Metrics including Number of applications and Average Number of days to hire are automatically calculated.
You can also easily view the top reasons why candidates were not selected.
---
NEW EMPLOYEE CHECKLIST (Free)
This Excel template is designed to document completion of activities in a checklist. HR departments in companies can use this to track or document new employee on-boarding activities. Typically, there is a list of activities that each employee has to complete to 'on-board' to the new company. We can use this one file to track such on-boarding for all employees.
The key features in this template are
Customize activities for your business (maximum 12 activities)
Printable checklist for each employee
Choose whether to print dates
Customize header with ordering fields as you prefer
Rename fields as needed (except the activity dt fields)
Customize footer with your business information
% Complete progress bar
All employees' data in one file
---
EVENT CALENDAR MAKER
The Event Calendar Maker is an Excel template (.xlsx) that you can use to create your own personalized event calendar. There are various use cases in HR for calendars.
Here are some
Features
Works for any year; Start with any month; Start week with any weekday
Customize weekends and holidays
Categorize events into 12 Event Types; Choose from 15 Colors to highlight
7 Calendar Designs (2 Yearly, 3 Monthly, Weekly and Daily calendars)
12 Frequency Types (automatically generate recurring events)
Print or export to PDF
---
Small Business Paid Time Off (PTO) Manager
If you are a small business owner looking to track Paid-Time-Off (PTO) for your employees, your search for a simple and affordable solution ends here. You can download this Excel template to calculate Employees' PTO accrual balances as well as manage their time-off.
FEATURES
Manage Paid Time off (PTO) for multiple employees in your organization/company, in one file
Two types of paid time off can be managed. Example: Vacation and Sick days
Automatically calculates PTO balances for today and any future date
PTO calendar to view leave/time-off across employees and plan monthly availability
Automated Employee PTO report that is print-ready or can be exported to PDF
Several options available to cover most common business PTO policy scenarios
BENEFITS
Get organized with employees' PTO data
Save time by using template designed with simplicity & effectiveness in mind
Leverage the automated reports and calendar
Save money versus costly specialist software
All within our familiar Microsoft Excel. Easy to extend and customize.
---
PTO CALCULATOR for One Employee (Free)
Find out how many days of PTO (Paid Time Off) you have available using this free Employee PTO Tracker Excel Template.
It considers various factors such as Annual PTO Accrual Rate, PTO Accrual Frequency (Weekly, Every 2 weeks, Twice a Month, Monthly, Quarterly, Annual), PTO Rollover Policy, PTO Rollover Timing (Calendar year or work anniversary), Tenure Based PTO Tiers and Probationary Period.
The template can handle all the above scenarios and can calculate the PTO balance. In addition, once you input the PTO you have already taken, it will update the current PTO balance accordingly. If you plan to take any PTO in the future, you can see now whether you will have enough balance on that future date.
---
EMPLOYEE VACATION PLANNER (Free)
This Excel Template is designed to help assess coverage of team members' availability during a month. As a Team leader or a Manager of a team, it is important to know the staff coverage available every day, especially during the holiday season. This Excel template can be used every month to ensure that you are aware of exact coverage and plan accordingly. It can handle up to 20 employees.
For additional functionality (Supports 100 employees, 100 skill groups, 100 Projects and planning period of up to 2 years. Handles daily/weekly/monthly/quarterly demand. Automated Dashboard), please visit Resource Capacity Planner Excel Template.
---
TEAM VACATION PLANNER
---
EMPLOYEE TIMESHEETS (Free)
Create employee timesheets with this simple and effective Employee Timesheets Excel template.
Simple Input: Time In, Time Out and Break duration (minutes)
Supports up to 3 Tiers of time and pay rates (Example: Regular, Overtime and Double Overtime)
Accommodates daily limits and weekly overtime limits
Accommodates different overtime rules and policies for weekends and holidays (compared to weekdays)
Supports Policy for Seventh consecutive day of work in a workweek (California State rule)
Automated Weekly, Biweekly and Monthly Timesheet reports
---