2024 Recruitment Tracker – Free Google Sheet Template
Are you a hiring manager or recruiter facing talent acquisition challenges? Download our Recruitment Tracker Google Sheets template for streamlined recruitment and great hiring insights. Manage and monitor applicant progress easily with our dashboard.
Gain visibility into applicant flow and identify candidate drop-off points. Make smarter hiring decisions by understanding why some candidates weren't selected.
This template is designed for Google Sheets, but if you are looking for an Excel template, please visit Recruitment Tracker in Excel. We also have a comprehensive Recruitment Dashboard using Power BI.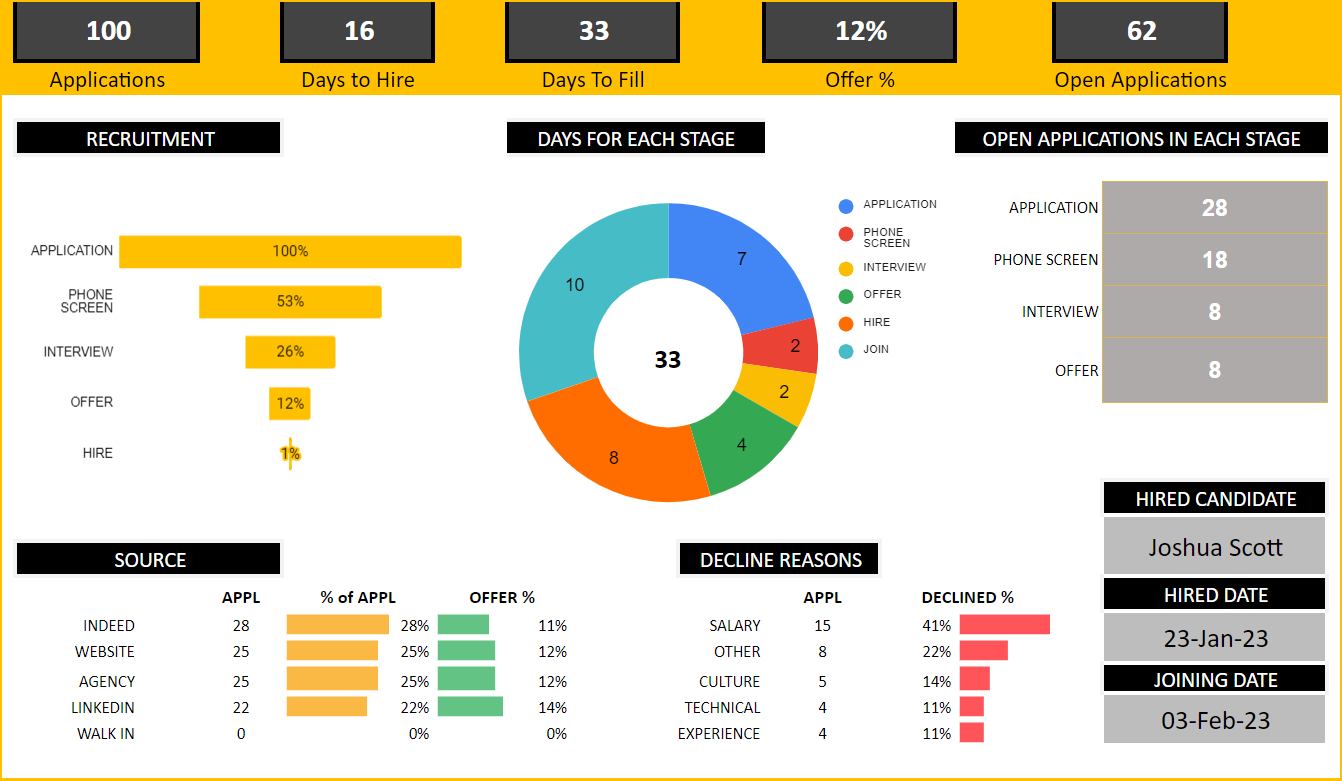 Downloads
Dashboard
Our thoughtfully designed dashboard offers full automation, providing you with almost immediate access to key insights. Lets take a look at each of them below.
Key Hiring Metrics

For recruiters, understanding the effectiveness and efficiency of your recruitment process is vital. Our dashboard metrics provide precisely that insight!
Track the number of received applications and open positions, monitor offer statistics, and calculate the average time it takes to fill open roles. These insights inform critical hiring decisions, such as expediting the hiring process to reduce time-to-hire and more.
Recruitment Funnel
To know at which stage candidates are more likely to drop off is crucial. The recruitment funnel shows you just that:
Days taken for each stage
Determine whether there's a bottleneck – if a specific stage in your recruitment process is causing significant delays and prolonging the time it takes to fill a job vacancy.
Open Applications in Each Stage
Know exactly how many applications are in which stage of recruiting with the following visual:
Source and Decline Reasons
Identify the application sources yielding higher-quality candidates by comparing the offer percentages from these channels. This assists in making informed decisions regarding your recruiting source channels.
Gaining insight into the causes of candidate rejections helps you identify application process shortcomings. Similarly, understanding why candidates decline your offers empowers you to align job descriptions or manage expectations effectively with your company's leadership.
Once an opening is closed with a successful recruit, you can view the details of the new recruit with this visual:
How to track recruiting in Google Sheets?
Step by Step Tutorial
Following are the steps:
Enter Settings information
Input candidate or applicant information
View Dashboard
Step 1: Enter the Settings
The Settings: In this sheet, define your recruitment tracking templates' key details like the stages of application, its source and the decline reasons as per your organization.

Step 2: The Applications
This is where you'll enter all the information related to the candidates/applicants for the open position.
Begin with the job title, the recruiter and the job posting date
Once applicants start coming in, the same details can be entered as shown below along with their source in the respective columns.

As candidates progress through stages, input their stage-specific dates, along with hire and joining dates upon selection. For rejections, mark "Not Hired" and provide a decline reason. Additional columns are available for your comments and cost.
Step 3: View Dashboard
These steps complete the data entry process for your automated applicant tracking system. You can now access the Dashboard sheet to utilize metrics and visuals for important hiring decisions or share them with senior management. Happy recruiting!
Limitations
The recruitment sheet template is designed to be used for tracking recruitment for only one job. If you need to track for a second job, make a copy of the file and use.
Please do not make a copy of the sheet in the same file. It will not work that way.
Recommended Templates
To track multiple job openings and for more recruitment metrics on quality and efficiency, buy our premium Recruitment Tracker Dashboard in Google Sheets.