Description
As an HR decision maker, are you looking to improve Recruitment process in your organization?
Would you like to take data driven decisions to improve ROI?
Want to have instant access to key metrics like Cost per Hire, Avg. Time to Hire and Conversion %?
Look no further. We present a simple and effective Recruitment Dashboard Template:  Recruitment Dashboard in Power BI. 
With the Recruitment Dashboard Template, get instant access to 20 relevant HR metrics in 5 actionable HR reports and take infinite smart HR decisions.
Let's take a look at the reports and metrics included in the Recruitment Dashboard Template.
5 Automated Reports
The Recruitment Dashboard Template provides 5 automated reports instantly.
Recruitment Efficiency Report
Know exactly how many candidates were hired, cost per hire, and time taken to fill the positions.
Identify the bottlenecks in the recruitment cycle time and improve.
Get to know the most cost-efficient source of candidates.
Recruitment Effectiveness Report
Measure the effectiveness of your recruitment process using Offer %, Acceptance % and Overall Conversion %. View by Hiring source to identify best performers.
Understand reasons for company declining applications submitted and candidates declining offers presented.
View the recruitment funnel to identify stages where applicants are dropping off.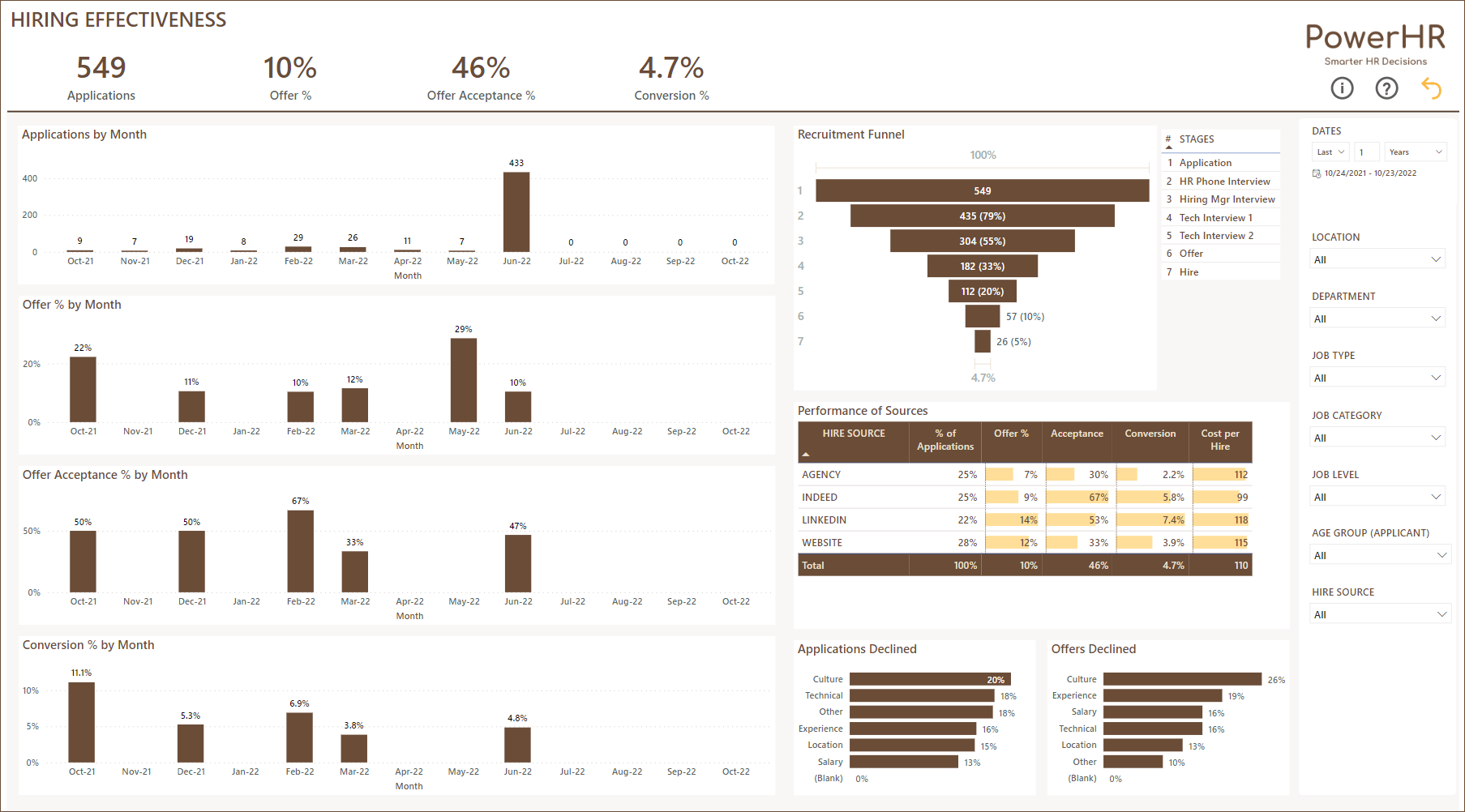 Recruitment Analysis Report
View metrics by different recruitment dimensions and gain valuable insights.
Identify the best performing recruiters & departments and implement best practices across company.
Open Positions Report
View all open positions and how long they have been in market. Easily filter by Location, Department and Job categories.
Job Report
In the Recruitment Dashboard Template, see all the details related to a specific job by entering the job number. Instantly see all the applications with their status.
20 Metrics
You will have instant access to 20 HR Recruiting metrics in the Recruitment Dashboard Template Power BI file. They are used in the 5 reports. You can also create your own reports and visuals using the metrics.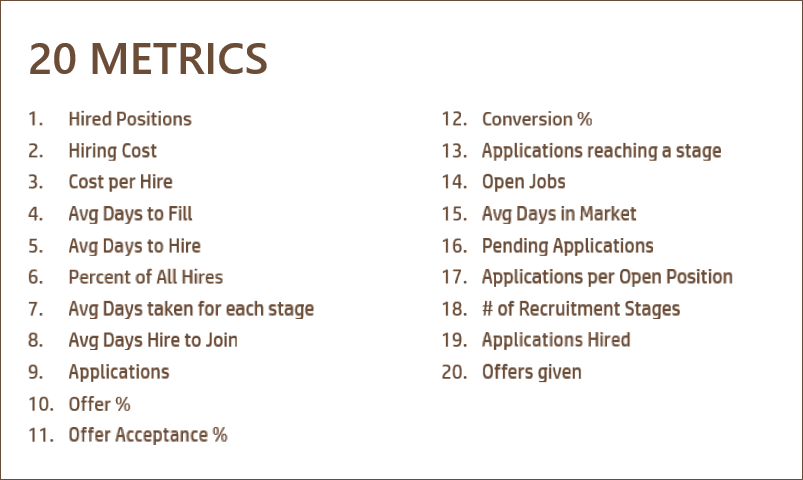 Hear what our clients have to say about the template
Interactive, Customizable & Expandable Reports
All the reports have filters that allow you to narrow down the data according to your needs.
You can easily customize the entire Power BI report (Recruitment Dashboard Template) by modifying the theme colors/fonts or customize specific visuals individually.
If you have used Power BI before, you can add more reports in the Power BI file or modify existing reports easily.
Simple 3 Step Setup
A simple 3-step process to get you started immediately and get instant reports.
You will receive a Power BI file and an Excel file when you purchase. You can download both and save in your local desktop or on cloud drive such as One Drive or SharePoint.
Enter input data in Excel file
Set up connection from Power BI file to the Excel file.
View reports in Power BI
Recruitment Dashboard Template Demo
Our Promise
Our promise to you is that after downloading this Recruitment Dashboard Template (Power BI template), within 15 minutes,
You will have a clear and simple streamlined process to enter and manage jobs and applications data.
You will have instant access to important Recruitment metrics such as Cost per Hire, Offer Acceptance %, and Avg. Days to Fill.
You will have automated interactive reports including Efficiency Report, Effectiveness Report, Open Positions Report, Job Report and Analysis Report.
You will have insights about your recruitment process that you can use to take decisions and improve ROI.