Personal Finance Manager 2023 (Free Excel Budget template)
This is a simple free Personal Finance management excel template that focuses on making it easy for you to know what's happening with your financial situation especially when you have multiple bank accounts, credit card accounts and cash.
This Excel Budget template also helps you set budgets and see how you are actually doing against your budget.
With simple data entry, the template provides you instant access to actionable information in a consumable form that can answer key questions regarding your personal financial situation.
Specifically, the template helps you in knowing the following:
How much money is in my different bank accounts?
How much do I owe on credit cards?
On what items am I spending my money on?
Am I exceeding my monthly budget? If so, in which categories?
How are my expenses trending over time?
Am I spending more on any specific expense category over time?
How much am I saving every month? How does that add to my net balance?
Free Downloads
This version doesn't use Pivot Tables and Slicers. 4 Charts that are available in Excel 2010 file are not available in this.
Requirements
Excel 2010 and above for Windows
Excel 2011 for Mac
---
Video Demo
---
How to track personal finances in Excel?
The template has 3 worksheets: 1) Settings 2) Transactions and 3) Report.
STEP 1: Enter information in Settings worksheet
Enter Accounts (bank accounts, Credit Card Accounts and Cash Accounts)
Set your starting balances of accounts
STEP 2: Entering transactions in the Transactions worksheet
When you open the template, there will be no records in the Transactions worksheet (as shown in the image below). Start entering your own transactions.

3 Types of Transactions
Income and Expense: By default, all the Income and Expense transactions should be entered as positive amounts.

Special case (Refund): If you purchased an item at a store, you would enter an Expense transaction with positive amount. If, a few days later, you returned the item to the store for some reason and get a refund, then you should enter the refund as a new Expense transaction with negative value.

Transfer: When money is transferred from one account to another, create two records

'Transfer' type with negative amount from the account you are taking the money from.
'Transfer' type with positive amount for the account you are depositing the money into.
Examples of Transfers are Credit Card Payment (transfer from Bank account to Credit Card account) and ATM withdrawal (transfer from Bank account to Cash)

Drop down menus are available for easy data entry in these fields (Type, Category, SubCategory, Account).
After you enter your transactions, the Transactions worksheet would look like this image below.
STEP 3: View Report
Since there are pivot tables and charts, please refresh the data by going to Data ribbon and refresh all (or keyboard shortcut Ctrl+Alt+F5) . This updates the charts with your new transactions.
Report sheet is locked to prevent accidental editing of formulas. To unlock, use password indzara
The report has four pages.
1) Summary
You can find balances for any period in each of your accounts using this personal account template.

This can be helpful when your bank statements and credit card statements actually have their billing cycles different from calendar months. This allows you to compare your statements with the data you have in this template and confirm that you have not missed any transactions.
The chart shows the trend of month-end balances in the account chosen.
2) Monthly Financial Analysis
This multiple bank account management excel template can also help in monthly financial analysis. Please choose one month at a time using the slicers at the top.
View total Income, expense and savings
Understand where the money came from and where it was spent, in the month
Track whether you have exceeded the monthly budget.
Also see the comparison of expenses to budget by each category
Categories that exceeded budget will be highlighted in red
Understand expenses by Subcategories.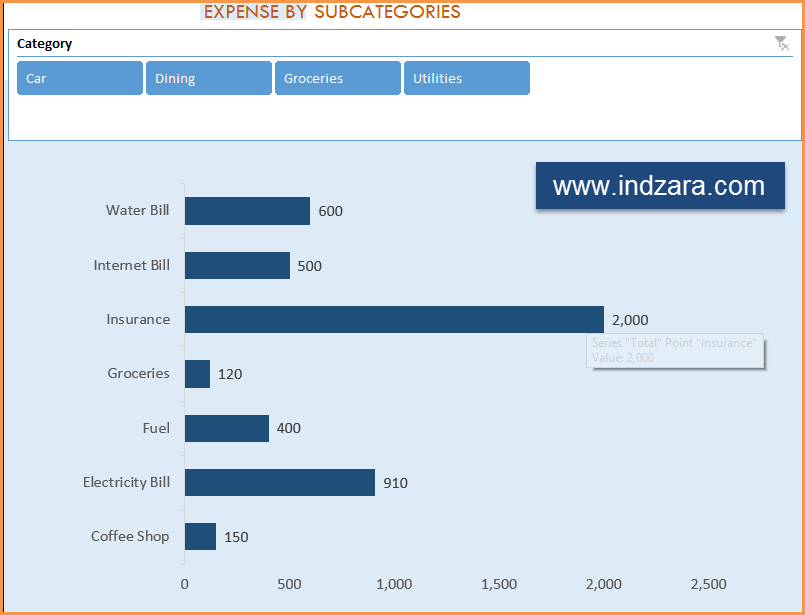 3) Trends of expenses, savings and net balance
Trend of expenses over time and comparing against monthly budget
Trend of savings and net balance over time
4) Trends of transactions by Categories and Sub Categories
I hope you find this personal finance management template excel useful in managing your personal finances easily.
Related Free Templates
Recommended Templates for Businesses