Personal Finance – Free Excel Templates
 Microsoft Excel is an ideal tool for personal finance or budget management. The following templates can help you with understanding your financial situation and also help make sound decisions related to finance.


Personal Finance Manager
This is a simple free Excel template that focuses on making it easy for you to know what's happening with your financial situation especially when you have multiple bank accounts, credit card accounts and cash. It also helps you set budgets and see how you are actually doing against your budget. With simple data entry, the template provides you instant access to actionable information in a consumable form that can answer key questions regarding your personal financial situation. Specifically, the template helps you in knowing the following:
How much money is in my different bank accounts?
How much do I owe on credit cards?
On what items am I spending my money on?
Am I exceeding my monthly budget? If so, in which categories?
How are my expenses trending over time?
Am I spending more on any specific expense category over time?
How much am I saving every month? How does that add to my net balance?
---
Loan Comparison and EMI Payment Calculator
Loan Comparison & EMI Calculator in Excel

This template calculates

EMI
Total Interest paid during the duration of the loan
Last Payment Month
Number of Payments

It allows you to compare three different loan scenarios based on their EMI, Interest, Last Payment Month and Number of Payments.
You can also compare how much savings you can get if you pre-pay your loan. You can enter up to 12 pre-payments for each loan.
You can print the loan comparison and the detailed payment schedule (Amortization schedule).
---
Group Shared Expense Calculator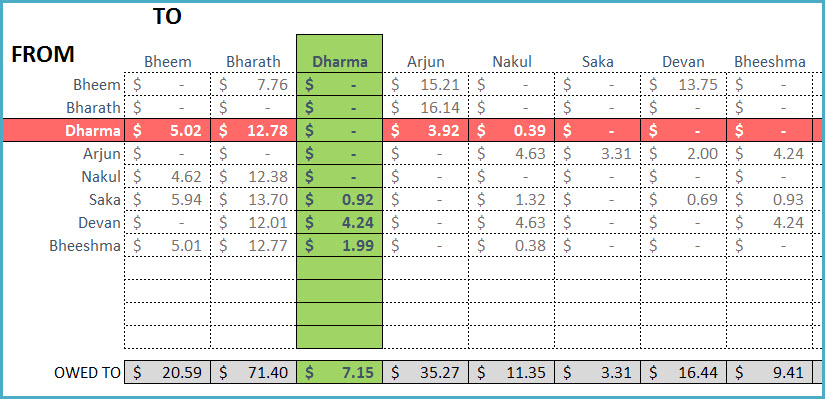 This Group Shared Expense Calculator template can be used to calculate each person's share of expenses in a group. For example, when you go on a trip with your friends where multiple people pay for shared expenses. At the end of the trip, you would need to calculate what each person owes and to whom.
Features
Expenses can be split equally among all friends in a single step
Expenses can be split unequal among any number of friends
Expenses can be split unequal by % or Amount
Report shows all balances among friends
Calculates expense amounts for each friend
---