Project Management in Excel
Microsoft Excel is the most used project management tool, though there are specialist applications available such as Microsoft Project.
The key reasons, in my humble opinion, are
Ability to adapt: It's easy to add more features to an Excel workbook and customize it to suit our unique project management needs.
Easy to Use: Building sophisticated Excel workbooks is not easy, but using well developed workbooks is very easy. If we become familiar with basic Excel operations such as data entry. formatting, printing, filtering and sorting, we can become very effective very quickly. (My Free Excel course for Beginners)
Easy to Share: It's easy to share the files with team members as Excel is installed in computers in almost every company.
Excel Project Management Templates 
The Excel templates from indzara.com are built with the principles of simplicity and effectiveness. They are designed to be easy to use but they don't lack in functionality. Here is just a couple of examples. Our Project Planner and Project Manager templates use Automatic Scheduling where tasks are automatically scheduled in our project plan. (What is Automatic Scheduling in Project Management?). Our Calendar Maker and Task Manager  templates can handle recurring (monthly, weekly, 4th Friday of a month, etc.) events and tasks and automatically create those events/tasks for us. These tools help us save time, save money and be more organized & efficient.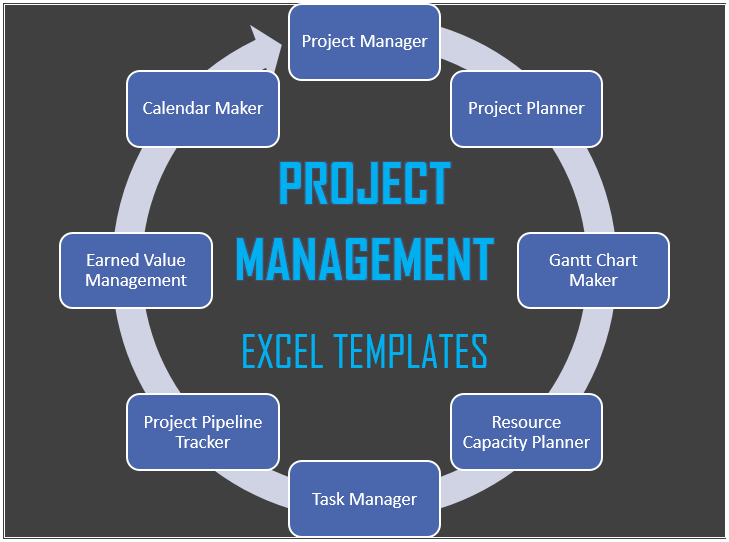 The following is the list of Excel Templates currently available. More are being added regularly. You can use the links to visit the individual template pages and learn more about them. Each template has video demos (YouTube Channel) and detailed documentation. I have also provided a brief overview of each of them further down below in this page.
If you don't find a specific template, please contact me with specific requirements or leave a comment in the comment section below. I will add to my product road map to publish.
---
FREE PROJECT MANAGEMENT EXCEL TEMPLATES
PROJECT PLANNER (BASIC) EXCEL TEMPLATE
The purpose of the template is
To know if and when projects will complete given each project's tasks, task duration, resource availability and project priority.
If you have any due dates for projects, the template can determine if project will complete by due date.
To understand resource utilization and identify opportunities for re-assignment to improve project completions.
To determine how many hours of work are still pending after the planning period is over, so that you can request more resources.
To prepare printable project schedule (Gantt chart) and resource schedule.
---
PROJECT PIPELINE TRACKER EXCEL TEMPLATE
This Excel template allows tracking projects and calculating effectiveness in completing them. This is applicable for scenarios where all the projects go through the same set of pre-defined stages in sequence. In a simple example, each building project may have three stages: Plan – Design – Build. Once planning is completed, designing begins and after designing is completed, build begins. We will be tracking the completion of each stage of each project.
It is very simple to use. It can provide visibility to how long it takes for our projects to complete. It can also help identify where the bottlenecks are in our project cycle. We can also view the trends in terms of time each stages takes.
---
EARNED VALUE MANAGEMENT EXCEL TEMPLATE
Earned Value Management (EVM) is a technique used in project management to measure progress of a project with respect to cost. In this article, we will cover the basics of EVM, why it is useful and also a free Excel template which will help calculate the metrics for us.
PLANNED VALUE (PV): Authorized Budget assigned to the scheduled work
EARNED VALUE (EV): Measure of actual work performed expressed as budget authorized for that work
ACTUAL COST (AC): Actual cost incurred for the work performed
SCHEDULE VARIANCE (SV): Amount by which project is ahead or behind plan = EV – PV
COST VARIANCE (CV): Amount by which actual cost is ahead or behind planned cost = EV – AC
BUDGET AT COMPLETION (BAC): Total Budget assigned to the entire plan
SCHEDULE PERFORMANCE INDEX (SPI): Measure of Schedule efficiency expressed as Earned Value to Planned Value = EV/PV
COST PERFORMANCE INDEX (CPI): Measure of Cost efficiency expressed as Earned Value to Actual Cost = EV/AC
---
TASK MANAGER EXCEL TEMPLATE
The Task Manager template performs the following functions:
Allows entry of tasks
Allows marking tasks as completed
Shows the tasks that are pending (past due dates)
Shows 5-day schedule with tasks
Printable sheet with pending tasks and upcoming tasks for 5-days
---
PREMIUM PROJECT MANAGEMENT EXCEL TEMPLATES
Project Management Toolkit
A collection of all 6 premium Excel templates is available as a bundle in Project Management Toolkit.
6 EXCEL TEMPLATES
Project Manager
Project Planner (Advanced)
Task Manager
Event Calendar Maker
Gantt Chart Maker
Resource Capacity Planner
---
 Project Manager Excel Template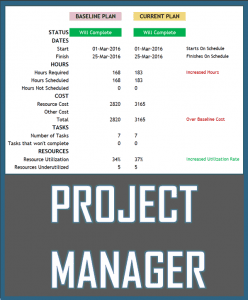 The purpose of the template is to plan and manage a project effectively and efficiently from start to finish. The template takes as input the scope of work and builds out the schedule. It incorporates cost management and resource management all into one solution. Read about Project Management Framework.
Plan and Manage a project
Create baseline plan and lock it
Track actual progress of tasks
Compare Plan Vs Baseline & Actual Vs Plan
Automatic Scheduling saves time
Extensive Automated Reporting
Customizable Gantt Chart
Cost calculation (Earned Value, Planned Value)
Burn Down (Hours) Chart
Resource Management metrics
Practical Functionality
---
Project Planner (Advanced) Excel Template
Plan your projects quickly with the Project Planner (Advanced) template.
Determine if and when projects will complete given each project's tasks, task duration, resource assignment to tasks, resource availability and priorities.
Determine if project will complete by due date
Prepare project, resource and task schedules at daily level
Understand resource utilization and identify opportunities for re-assignment to improve project completions.
Determine how many hours of work are still pending so that you can request more resources.
Estimate the cost of each project
FEATURES
Plan up to 50 projects at a time and a total of 250 tasks
Up to 25 resources can be included in planning
Maximum planning period is 366 days
Planning is done at the granular unit of hours
Instantly create resource, task and project schedules automatically
Automated Reporting with customizable Gantt Chart
Projects and Tasks can be prioritized
Each task can have up to two predecessors (dependencies).

A task can begin only the day after its predecessors have completed.

Customize with company holidays and company weekends, Personal leave.
---
 Task Manager (Advanced) Excel Template
This Excel template is designed to help create and update status of tasks easily. This can be used by project managers who handle multiple tasks and manage multiple team members. This can also be used by individuals to manage personal tasks.
Handles 100 active tasks at a time
Save time by automatically creating recurring tasks (12 choices of task types)
Easily choose weekdays for each recurring task
Handles 366 days of task occurrences at a time
Handles 1200 task occurrences (If you have a task that repeats weekly for 4 weeks, it is 1 task but 4 task occurrences)
Option to assign each task occurrence to one resource
Allows up to 25 resources in total
Handles customized Weekends and Holidays
View/update status of each occurrence
Customize and manage your own (up to 7) status values
Instant view of pending tasks
Simple calendar view of tasks in any week
Task occurrence status shown with color formatting
Dashboard with summary statistics
---
Gantt Chart Maker Excel Template
Gantt chart is the most common method used to visualize project schedule. The Gantt Chart Maker Excel template allows one to easily create Gantt charts instantly.
Applicable to projects of any size (that span across days, weeks, months or years)
Create two levels of Tasks (WBS – Summary tasks and subtasks)
Multiple views (Plan, Actual, Actual vs Plan or Current Status)
Simple and easy data entry
Option to use automatically calculated % of Work Days complete or user input
Control which tasks are displayed
Visualization: Assign each task a color. Assign each resource a color. 10 colors.
Milestone markers are automatically created
---
Event Calendar Maker Excel Template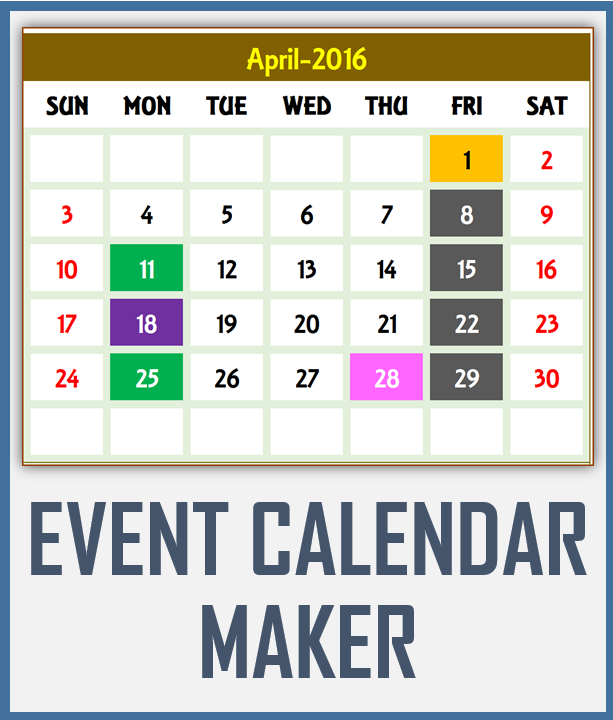 The Event Calendar Maker is an Excel template (.xlsx) that you can use to create your own personalized event calendars instantly. This is a great tool to build project calendars highlighting milestones in your projects.
All-Purpose Calendar Maker

Works for any year
Customizable weekends and holidays
300 events and 1200 instances

Visualization options & controls

Categorize events into 12 Event Types
Choose from 15 Colors to highlight
7 Calendar Designs (2 Yearly, 3 Monthly, Weekly and Daily calendars)

Practical Functionality that saves time

12 Frequency Types (automatically generate recurring events)
Control which events you would like to display by deactivating events
Control order of priority of events
Switch Off Non-business days easily
---
Resource Capacity Planner Excel Template
This Excel template is helpful in understanding the available resource capacity, comparing with demand and identifying surplus/deficit capacity by skill groups. The template takes the resource availability, holidays, weekends, overtime and vacation data to calculate capacity. Then, based on your input demand data, it can calculate the surplus/deficit capacity by Skill and Project.
Automated relevant output

Interactive Dashboard
Customizable Calendar view
Cost calculation
Print or export as PDF and share
Practical Functionality

Multiple aggregation periods (Daily, Weekly, Monthly, Quarterly and Annual)
Planning Units (Hours and Cost)
Supports company Holidays
Supports customizable Weekends
Resource can start and end any day
Limitations
• Maximum 2 years of planning period
• Maximum 100 Resources, 100 Skill Groups and 100 Projects (can be extended)